Discussion Starter
·
#1
·
The "hump" on my M40 bothers me, and if I grip it so the hump doesn't bother me, then I can't reliably disengage the safety with the stubby fingers on my average hands.
So I bought a Hogue Handall in the hopes of softening the "point". It's a little loose, and it shifts a bit. I tried spray adhesive on the M40 grip under the Handall, and that helped a bit, but not enough. I've seen others say the same about a Handall on their Steyr. I was unsatisfied with the Handall.
Then I read syntax360's post about how he noticed that the Sioux Tools grip for motor handles was the same as the Handall, and he "ordered a handful from Sioux Tools at $7.44 (part number 68340)."
He's wrong, and I'm glad of it. The grip from Sioux Tools is made by Hogue, and looks similar to the Handall, but it's smaller, has a different shape, has bumps and no smooth area on the backstrap, and it fits
much
tighter. It doesn't wiggle or have a loose spot above the "hump". It doesn't need to be trimmed at the bottom. It's better than the Handall on a Steyr.
It also doesn't have "hollows" under the finger ridges for the Steyr's single ridge t poke into, but that doesn't seem to matter. Mine rides a bit below the peak of the Steyr's finger ridge, which suits me fine and gives my middle finger enough space.
It is very tight going on, more than the Handall, and so it's hard to put on using fingers. It is easy to put on using a popsicle stick, alternating from the backstrap to the frontstrap. Use the popsicle stick as a "flat surface area extender", with your fingers supporting the stick. Dig it under the Hogue and over the Steyr grip, and support the stick with your fingers as you lift the Hogue up. You basically "seesaw" the grip up the front and back edges. If you try to pry with the stick it will break, especially if your son just finished the popsicle it came in, as mine did.
A tongue depressor stick would probably also work, maybe a flat screw driver would too, as long as you don't screw up and poke a hole through the Hogue.
Here is the pic syntax360 posted. I noticed that it was different than the Handall. You will too, if you look close enough: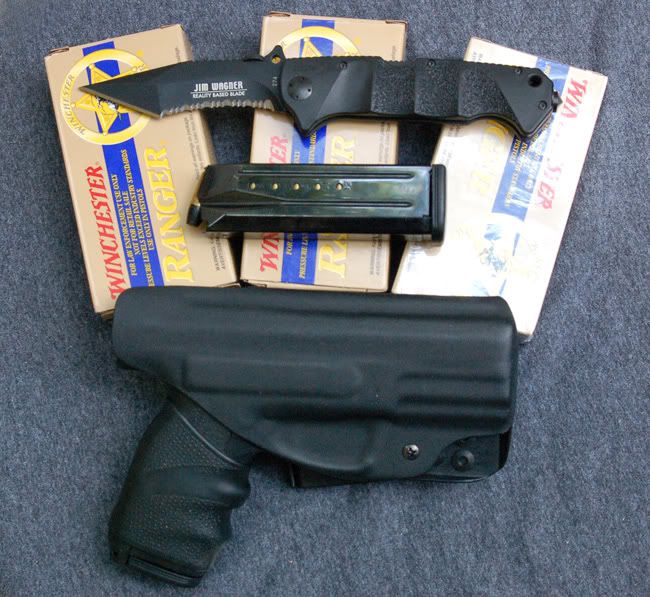 I was going to take the grip off and post pics of it next to my trimmed Handall, but I'm lazy and feel that my work is done. Use this info as you see fit, and may the Force be with you.
Thanks Derek,
Ben