Discussion Starter
·
#1
·
Well, the board seems kinda dead lately, so I figured I would try to liven things up a bit by throwing up some shameless M9A1 porn.
I bought the pistol in September of '05 through Gallery of Guns NIB with 2 15 round mags. I wasn't as fond of the pistol at first as I had originally hoped to be - she consistently jammed about every other mag every range trip. I soon discovered the problem - Steyr folks reported they had accidently put 10 round mag springs in my 15 rounders. They swapped my old mags for two new ones, leaving me with 4 good mags. I haven't had any problems since!
I've since installed a hogue grip (the original was just a bit too thin and slick for my tastes) and PT night sights. Photographing the sights in the dark turned out to be a real challenge - the photo below is pretty poor quality, but at least you get an idea of the colors.

What I like most about the night sights is rolling over at night at seeing them gleaming back at me - I always know the exact position and orientation of the pistol on my nightstand. She sleeps fitted with a Streamlight/Insight M6X and sporting 15+1 Winchester Ranger 127gr. +P+ and a spare mag in the nightstand drawer.
Alright, on to the real pictures...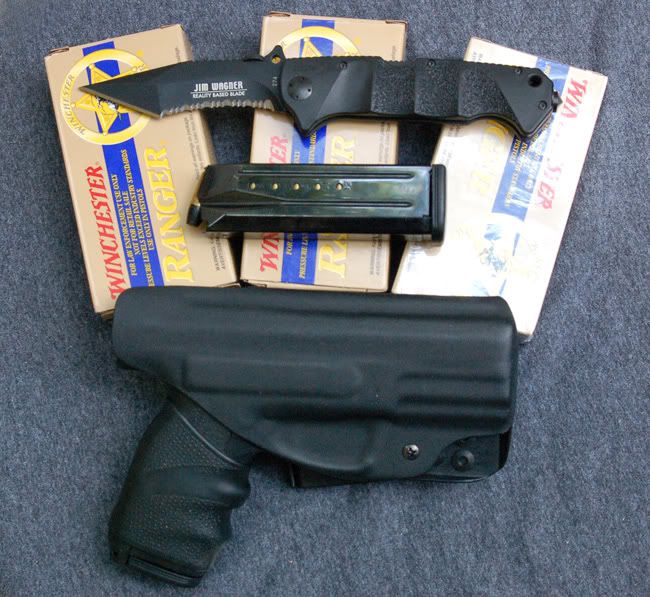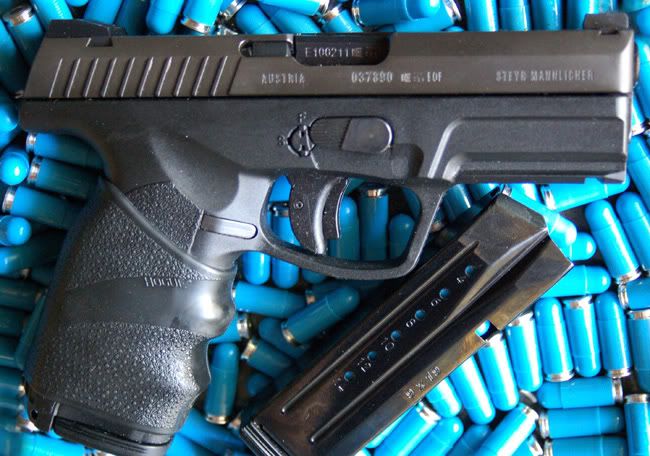 End Part 1