Discussion Starter
·
#1
·
A few months back I mentioned that I purchased an older M40 on Gunbroker. It had the older-style trigger and extractor. It also had night sights that were butchered by the previous owner (or the monkey he hired to install the sights).
As I promised myself, I had the gun refurbished, albeit not completely.
I managed to get a new recoil spring, extractor and night sights from USASteyr but failed to get a new trigger assembly. After that, off to my local gunsmith, Accurate Plating & Weaponry (AP&W).
I asked to have the sights installed and slide and all of the frame internal metal parts hard chrome (HC) plated (save for the barrel and night sights).
Well, the job was done very nicely; however AP&W failed to HC the slide plate and frame subassembly. They did plate the extractor. Bob Cogan admitted that they had a problem removing the (new) extractor after they bead-blasted the slide....as a result they drilled a small hole to facilitate removing the extractor. He assured me that the hole was drilled in a non-stress bearing part of the slide....8O
Regardless, I didn't get on their case about it or the other parts they failed to plate since the rest of the gun looked nice as these photos show: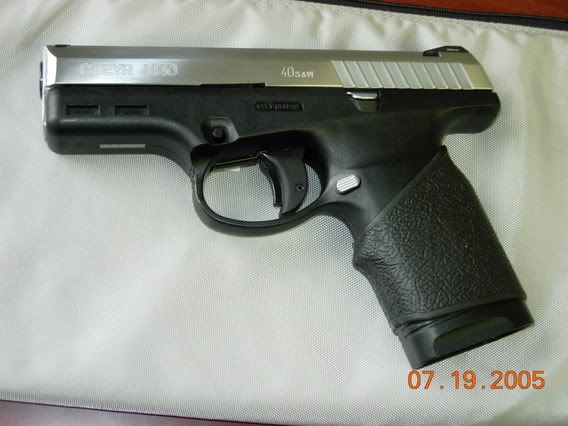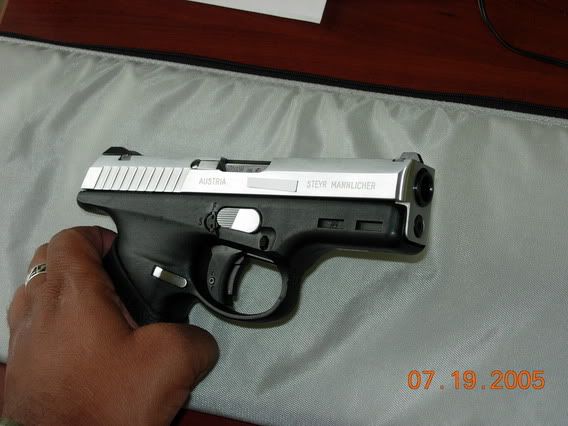 After gawking at the gun for what seemed to be hours, I cleaned the M40 and took it to the range. The gun's first time at the range was a disaster!! I took 8 mags full of Speer 165 grain Gold Dot JHPs and Winchester WINClean 165 grain BEB rounds only to have about 10 FTEs and FTFs...including one cartridge case that was wedged tight in the barrel's chamber....end range day one.
After that failure, I realized that AP&W may have failed to open the e-mail I sent them with the handy URL link to this site (and the disassembly tutorials)....as such, they probably had the extractor reassembled in wrong position.
I cleaned the gun, took out (and reinstalled) the extractor and took the gun and 250 of the aforementioned rounds to the range.
SUCCESS!
I only had (mercifully) one FTE which was easy to clear.
I hope to have little problems with the gun.....other than people getting it confused with a S&W Sigma (which was what one of the range employees thought I had).....silly rabbit.
By the way, Cogan was cool; we shot the breeze for about an hour about all things that go "bang". Interestingly enough, his carry gun is a ported Kel Tec P10 converted to 357 SIG. I will be sending him more plating work in the future....but he is moving from FL to AL...or was it GA?