Discussion Starter
•
#1
•
Well, I haven't received my Evolution-9 just yet, but I did get my new flash hider yesterday
. This thing is just plain mean - insanely cool :twisted: :twisted: :twisted:!!!!!! I have always like the futuristic look of the M-A1 series, and I initially wanted to put together a Steyr that looked like a pistol worthy of being carried on Marvin the Martian's hip. I decided a flash hider would be the pinnacle of tacticool, but I had some real issues finding something that would work. One would think 13.5x1 LH accessories would be easy to come by, as the USP9SD uses the same setup and I'm sure accessory manufacturers have realized by now that H&K types tend to have spare coin to drop on toys... However, the only manufacturer I could find that had what I needed was CCF, and they stopped making their $99 steel Vortex in 9mm due to weak brass ejection - instead, they opted to only sell the 9mm version in titanium with a hefty price tag of $149+shipping. Now I don't mind dropping some cash for new accessories, but even $99 seemed a bit high for more sex appeal - $149 was out of the question. I decided to scrap the project...
...Until I stumbled upon a gentleman over on HKPRO.com who fabricates these things for a hobby (if anyone wants his contact info, PM me and I'll pass it along). It took MAYBE a week for him to get the thing made and shipped to my door. When I received it, I was taken aback by the quality - it's solid, beautiful, and smooth all around. I couldn't have hoped for more.
And here it is -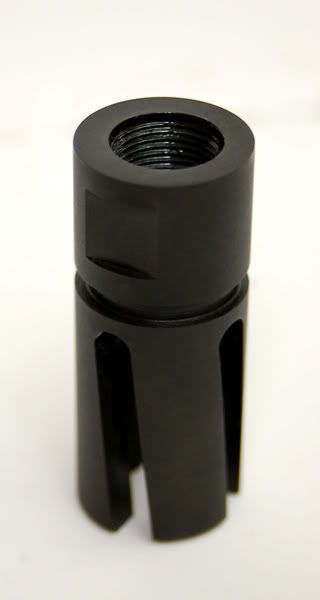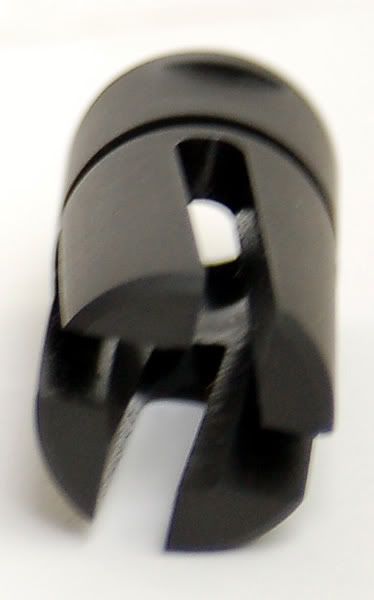 Unfortunately, I haven't had a chance to hit the range yet, but I will try to get to it this weekend and throw up a range report. CCF has a nice write-up on their webpage about the "science" of how flash hiders are supposed to increase accuracy and velocity. I'm not sure how much I buy into their numbers, but I sure would like a chrono to test the theories.
Added weight to the end of the muzzle is the first obvious benefit. With a full 15 round magazine in the pistol (127gr. +P+ Ragers) and the threaded barrel equipped, the various weight measurements are:
Flash Suppressor - 2.4 oz. (.15 lbs.)
Pistol - 34.4 oz. (2.15 lbs.)
Pistol w/ M6X - 39.2 oz. (2.45 lbs.)
Pistol w/ F.H. - 37.6 oz. (2.35 lbs.)
Pistol w/ M6X & FH - 42.4 oz. (2.65 lbs.)
More weight hanging off the front should equate to less muzzle flip (though I doubt anyone was complaining :lol
. In addition to that benefit,
CCF's website
claims:
The explanation for the accuracy enhancement has to be the flash suppressor eliminating "dirty air" from being created ahead of the bullet by expansion gas. If you watch a slow motion video of a bullet leaving a barrel you will notice for the first couple of inches out a barrel, the expansion gases actually speed forward past the bullet. We surmised that either one or both of the following two scenarios were taking place - 1st, expansion gases were creating dirty air ahead of the bullet or 2nd, as the expansion gases break past the rear edge of the bullet's base, they torque the bullet and give it a yaw and destabilizing it. When you have the vortex flash suppressor on the barrel, while the bullet is in the flash suppressor, the expansion gases are channeled off where they can't torque the bullet and by the time the bullet has exited the flash suppressor, whatever expansion gas remains behind the bullet has lost most of its energy (gas having very little mass dissipates its energy quickly).
They claim all of this should translate to a 7-8% increase in velocity for 9mm, which would mean 15-16% more energy on target. If these numbers are true, it will help further close the gap between a hot +P+ 9mm load and a .357SIG load.
And of course there is the obvious benefit of less flash when shooting, though I cannot imagine it would be noticeable except at night or while using some insanely dirty range rounds. In a "tactical" scenario, the flash hider should help conceal the location of the shooter.
Since we are talking handguns, increased accuracy and perhaps velocity were my only real concerns. Thus far, this thread has a definite surplus of words and a shortage of pictures, so without further adieu...