Discussion Starter
·
#1
·
Just wanted to post an interesting uh, problem I just encountered as a heads up to others. I just purchased five Steyr GB mags on gunbroker for what seemed like a fantastic buy it now price of $100 each. The pictures appeared to be a normal GB magazine at a glance and the seller (a pawn shop) had over 22,000 feedback with an A+ rating so I figured they just didn't know what they had or wanted to get rid of it quick. Unfortunately I should have looked a bit closer because when I got the mags in the mail today I quickly realized something wasn't right.
They're fakes! And no, they're not Rogak magazines either! Someone went to the trouble of making a pretty decent looking copies of a GB mag that aren't quite up to snuff. I tried fitting them in my gun and they mostly don't latch very securely and they don't sit flush. I haven't tried disassembling one or loading/shooting one as I'm going to ask to return them tomorrow. The biggest thing that stuck out at me was how high the follower sat and the sharp, unrounded 90 degree corner of the metal on the top front. The witness holes are also not numbered 6/12/18 like they are on every other GB magazine I've ever seen. Someone went to quite a bit of trouble to make these but their tolerances weren't great and they cut a few corners.
Has anyone ever encountered anything like this before or have any idea where these came from? There's no markings on them that I can see.
Left mag in each picture is a real deal original Steyr mag and the right one is one of the five fakes.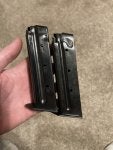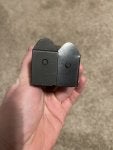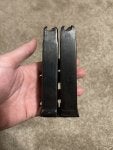 Two left mags are real OEM, five on right are fakes.